Exchanges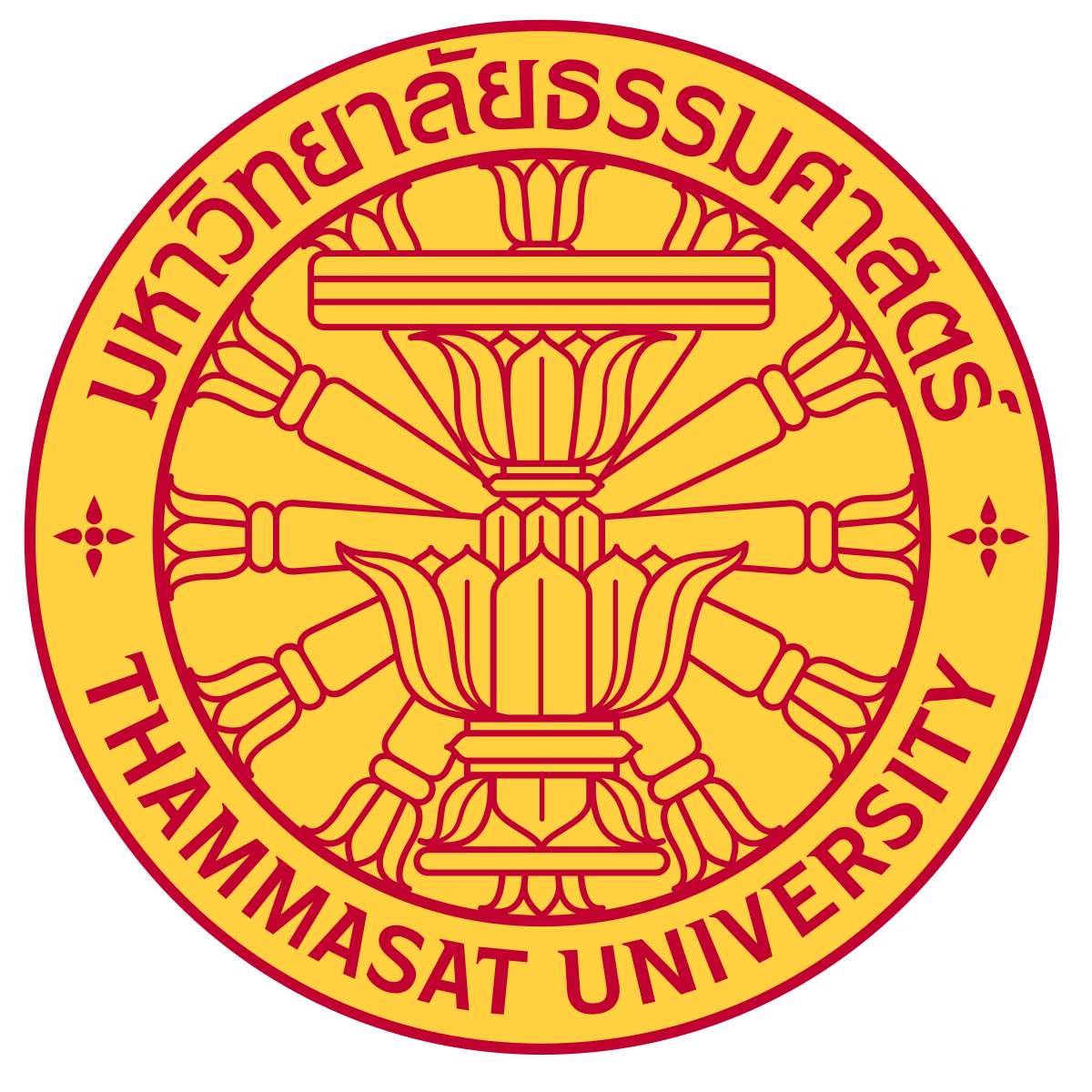 Call for Nomination and Application for Student Exchange Program at SIIT, Thammasat University, Thailand
Nomination and Application Deadline: May 15, 2023
SIIT is now calling for an official nomination and application for the Student Exchange Program for the 1st semester of Academic Year 2023 (August 2023 - December 2023).
All exchange coordinators from SIIT partner universities and students who are interested in joining the exchange program at SIIT are invited.
Application consideration process: May 15-31, 2023
Acceptance Letter: June 1-7, 2023
Students of Faculty of Science, Faculty of Engineering and Faculty of Mangement can be applied and If you have any questions or concerns, please feel free to contact InRO.
---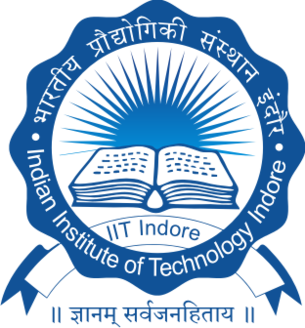 IIT Indore extended the deadline for the Semester Exchange program application for PhD scholars
Last date has been extended to apply for the same till 15th January 2023
We launched a Short-term Collaborative Research Fellowship for International PhD Students details of which are as follows:
This program will offer an opportunity to the PhD students from foreign universities and institutes to undertake part of their PhD thesis work in a faculty research group at IIT Indore.
Duration: 1 to 3 months
Financial support:
Living expenses of INR 35,000 per month
Round trip international airfare by economy class, and/or overseas medical insurance (as per actuals to a maximum of INR 80,000 (for US, Canada, Europe, Africa and Australia), INR 50,000 (for Asia, ASEAN, and Middle East countries), and INR 25,000 (SAARC).
Basic Medical facility at IIT Indore Health Centre
Kindly find further details: Click!.
We also host the students/faculties for various academic programs such as PhD, Masters etc every year. Please have a look at the feedback of the international students here: Click!.
Should you have any query or require any clarification, you are most welcome to contact the International Relations' Office at Mobile/ WhatsApp: +91-79874-22796
---

【Saitama University】Exchange Student Nomination for FALL 2023 is Now Open
Nomination Deadline: March 1 (Wed)
1st Application Deadline: April 1 (Sat)
2nd Application Deadline: May 1 (Mon)
Saitama University is pleased to announce that nomination for our FALL 2023 program is now open.
[*Announcement starting from FALL 2023 program *]
Minimum GPA and Language Test Results will be added in the nomination qualifications and requirements as below.
cumulative GPA of 2.4 or above on 4.0 scale
either of the following language requirements
CEFR B2 or higher(TOEFL PBT 533; TOEFL iBT 72; IELTS 5.5etc) or Equivalent
JLPT N1 or N2 or Equivalent
---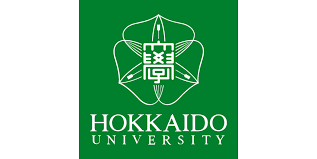 Exchange Program 2023-2024 Hokkaido University[HUSTEP,JLCSP, SA/SRS]
For HUSTEP and JLCSP: The application deadline for HUSTEP and JLCSP is February 3, 2023
For Special Auditor and/or Special Research Student: The nomination deadline for SA/SRS is March 20, 2023
We are pleasead to inform you that our website for exchange programs, HUSTEP, JLCSP and Exchange as Special Auditor/Special Research Student has been updated.
Brochures will be shipped out via regular untraceable air mail. However, conditions for international shipment is unstable and to some countires delivery is suspended. Arrival might delay so please refer to our website from the following link.
---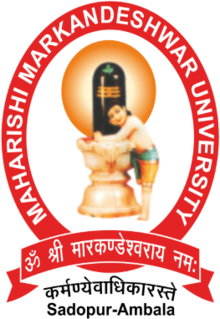 Semester Exchange Program in India with 100% Tuition Fee Waiver @ MMDU Mullana - Ambala, India (January - May, 2023)
Last date to Apply: December,15th
MM (DU) is inviting applications from the students currently enrolled in the higher education Institutes/ Universities, for the Semester Exchange program (January - May, 2023) with 100% Tuition Fee Waiver in the following faculties:
Business Management and Commerce
Engineering (Computer Engineering, Mechanical Engineering, Civil Engineering, Electronics & Communication Engineering, Electrical Engineering and Bio Technology)
Computer Applications
Hotel Management
Law
Sciences
Agriculture
Registration Charges: Waived Off
Tuition Fee: Waived Off (100% Scholarship)
Notification of Selection: by 20th December, 2022
Joining Date: Second week of January 2023 (dates may vary as per the faculty opted for)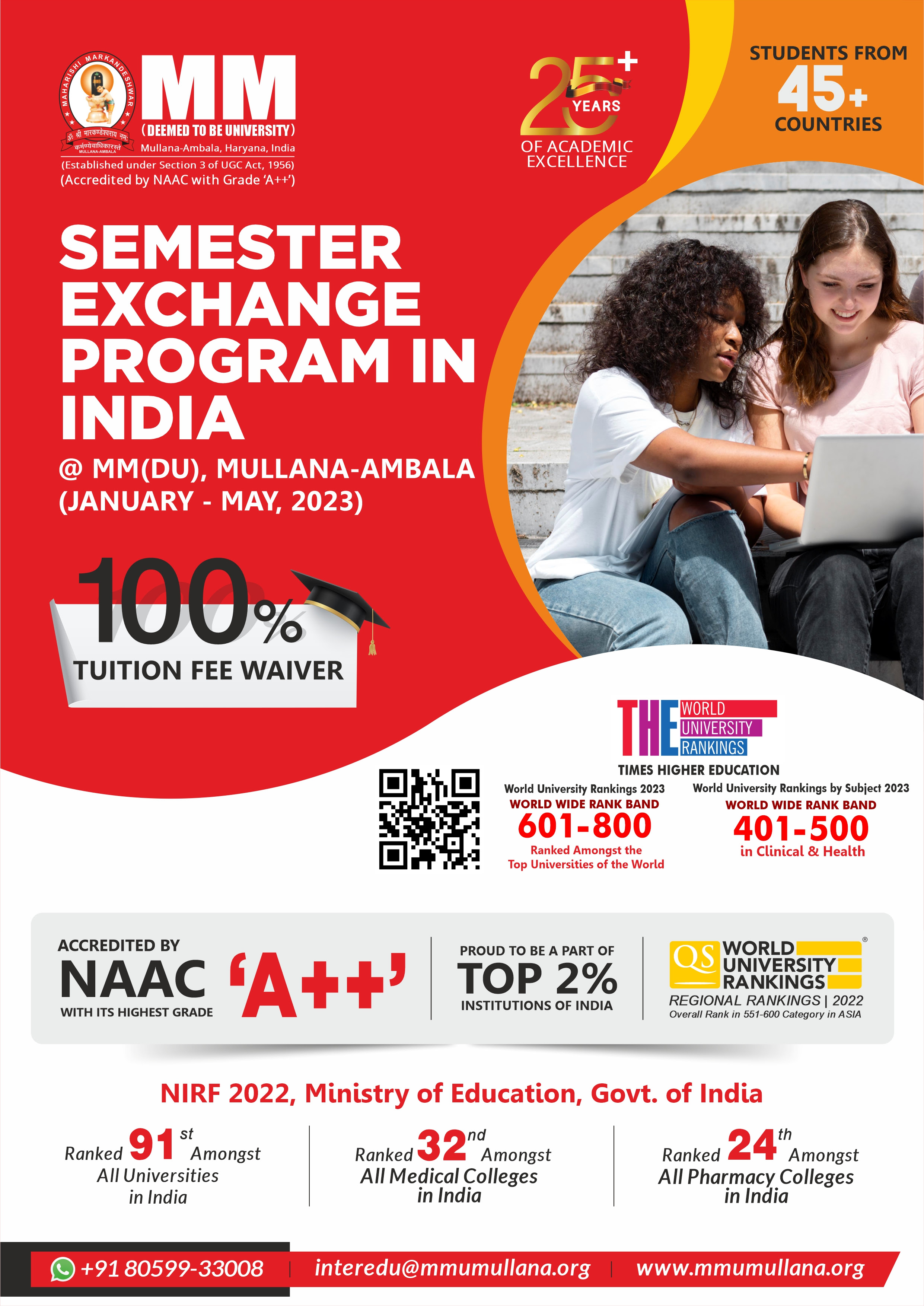 ---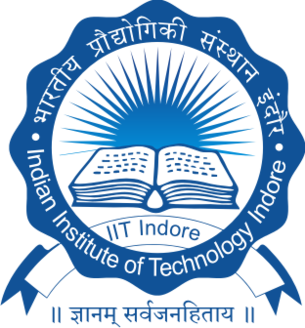 Applications invited for UG and PG Students' Semester Exchange Fellowship Program at IIT Indore
Application deadline December 15th
It gives us great pleasure to inform you that International Relations, IIT Indore has introduced UG/PG Students' Semester Exchange Fellowship Program in which international UG students (7th and 8th semester) and international PG students (3rd and 4th Semester) can work or study in our institution for a semester. Under this scheme the institute will sponsor 05 fellowships to the international UG and PG students. Students are required to contact the Professor at IIT Indore or department and submit an acceptance letter at the time of application. Kindly visit International Relations website for further details: ir.iiti.ac.in
The main objective of this program is solely to provide excellent opportunities for IIT Indore students to obtain exposure to high-quality research and teaching at our institute. We encourage your students all to please take advantage of this program.
Number of Fellowships: - 05
Financial Support shall be as follows:
Tuition fee for the exchange semester will be waived off by IIT Indore for the partner institutions. For non-partner institutions, the Tuition fees will be charged at par with the institute norms
IIT Indore shall consider waiving the Tuition fee of the exchange semester for the students of the institutions facilitating the same to the IIT Indore exchange students
Students are liable to pay all the costs for their travel, visa, insurance, and other related to their living expenses during their stay at IIT Indore for the semester exchange
Selection procedure:
Home institution will select and nominate the students to IR, IIT Indore. IIT Indore will examine the applications by seeking recommendations from the respective departments and confirming the selected applicants.
Application Procedure:
Submit application duly recommended by the Head of the Department
Curriculum Vitae
Motivation Letter
Academic Transcripts (issued by the host institution)
B1 level English certificate
Kindly submit applications latest by December 15, 2022 to managerir@iiti.ac.in
In case of any query regarding this program please write to us (intloffice@iiti.ac.in; managerir@iiti.ac.in). We would be happy to answer.
---

[Extension] Call for Nomination: NSYSU Student Exchange Program Spring 2023
Application deadline will be extended to December 7th
we are accepting nominations for the Spring semester of 2023 (Feb. 2023 - Jun. 2023) & AY2023 (Feb. 2023 – Jan. 2024)
If have any inquiries please feel free to contact our Mobility officer Ms. Hana Ting at oia.exchange@mail.nsysu.edu.tw
---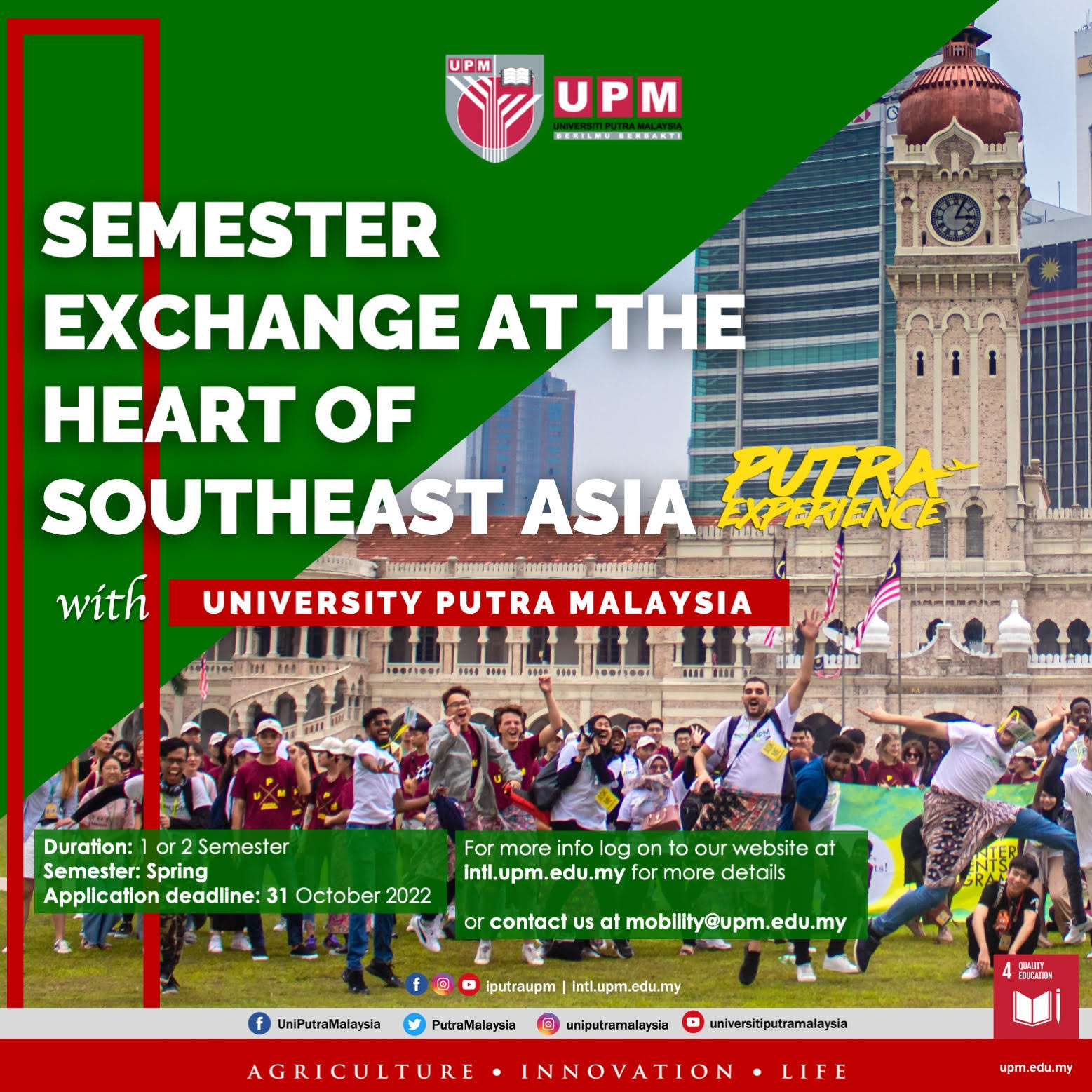 [Open for Application] Semester Exchange at UPM Semester (2) 2022/2023 (Spring 2023)
semester application details:
Student nomination - 25th Oct 2022
Application Submission (through email) - 31st Oct 2022
Registration week - 6th - 11th March 2022
Semester begins - 13th March 2022
All application submissions must include:
Recommendation from home university
Certified copies of academic transcripts from complete previous semester
For Non-English speaking country please provide English language certificate or letter from lecturer about student's level of English knowledge
Course description for 2022/2023 can be download here: https://akademik.upm.edu.my/pelajar_semasa/buku_panduan_program/sesi_2022_2023-69164
If have any inquiries please feel free to contact our Mobility officer Ms.Nadia at zawani@upm.edu.my or Mrs.Rahayu at rahayu.ridzuan@upm.edu.my
---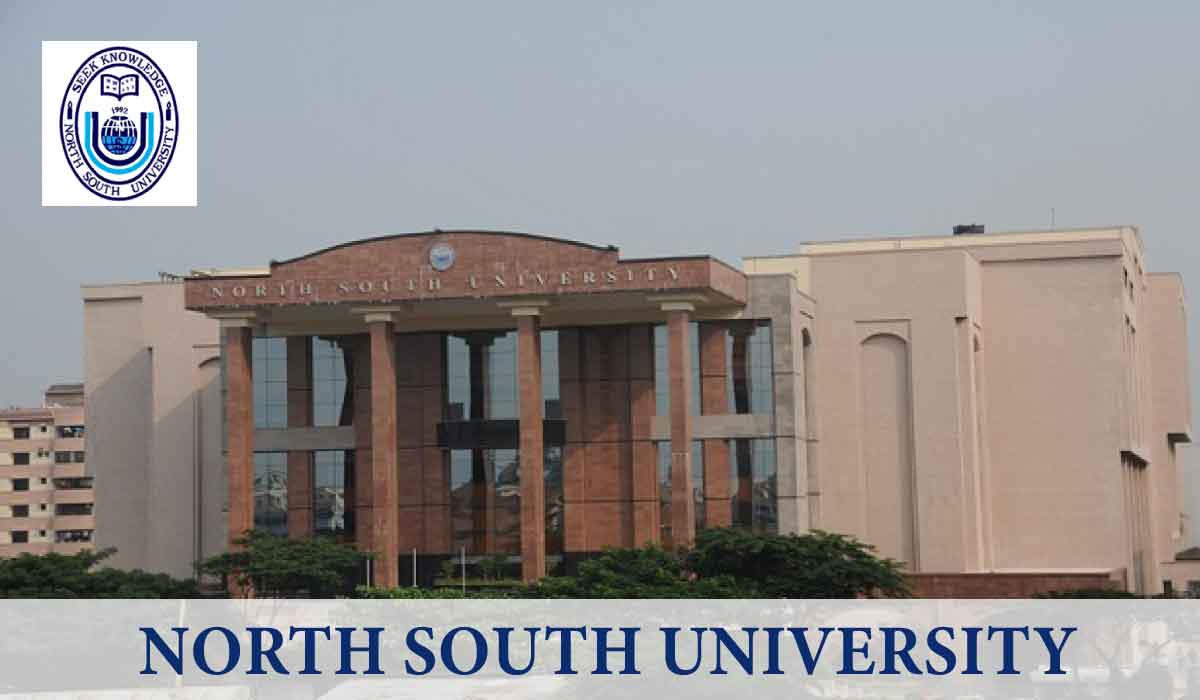 Semester Exchange Program- Spring 2023 - North South University, Bangladesh
We have started our preparations for the selection and nomination process for the semester exchange and study abroad programmes for Spring Semester 2023.
We are accepting students for exchange and study abroad programme for the academic year 2022-23. Spring 2023 classes will be held in person. We are welcoming 4 -5 students from our Partner University in the Spring 2023 semester.
Nomination start date - 16 October, 2022
Nomination deadline - 17 November, 2022
Application deadline - 8 December, 2022
Nomination
- A student wishing to study at North South University as an exchange student needs to be nominated by their home university first. The nomination details will include the student's full name, email address, period of study, academic major and intended field of study.
After being nominated by the home university, the student will submit an application with the following documents:
Copy of passport
Copy of transcripts
ID photo
Eligibility
Student nominees are required to meet the following criteria:
2nd year student for 3-year bachelor's program
2nd or third year for 4-year bachelor's program
minimum GPA requirement for undergraduate students-2.00
minimum GPA requirement for graduate studnets-2.75
first year student for 2-year master's program
Acceptence
The application screening process will be conducted after we receive all applications. Students can expect to receive a decision on their application within one week from the application deadline. After being accepted, students will receive an acceptance package which includes an official acceptance letter and certificate of admission for visa purposes.
Academics
Please find the course list for North South University-http://www.northsouth.edu/
Course selection
Once the application procedure is completed, the host university will provide details for course selection including credits and grading. There is no prerequisite to attend the courses.
Accommodation and tuition fees:
Accommodation will be provided on campus and tuition fee will be paid as per enrolled university policy to the home university.
Medical Insurance is required for all students.
Classes will begin on 27 January, 2023.
Student arrival: 3rd week of January.
Student fact sheet for semester exchange Click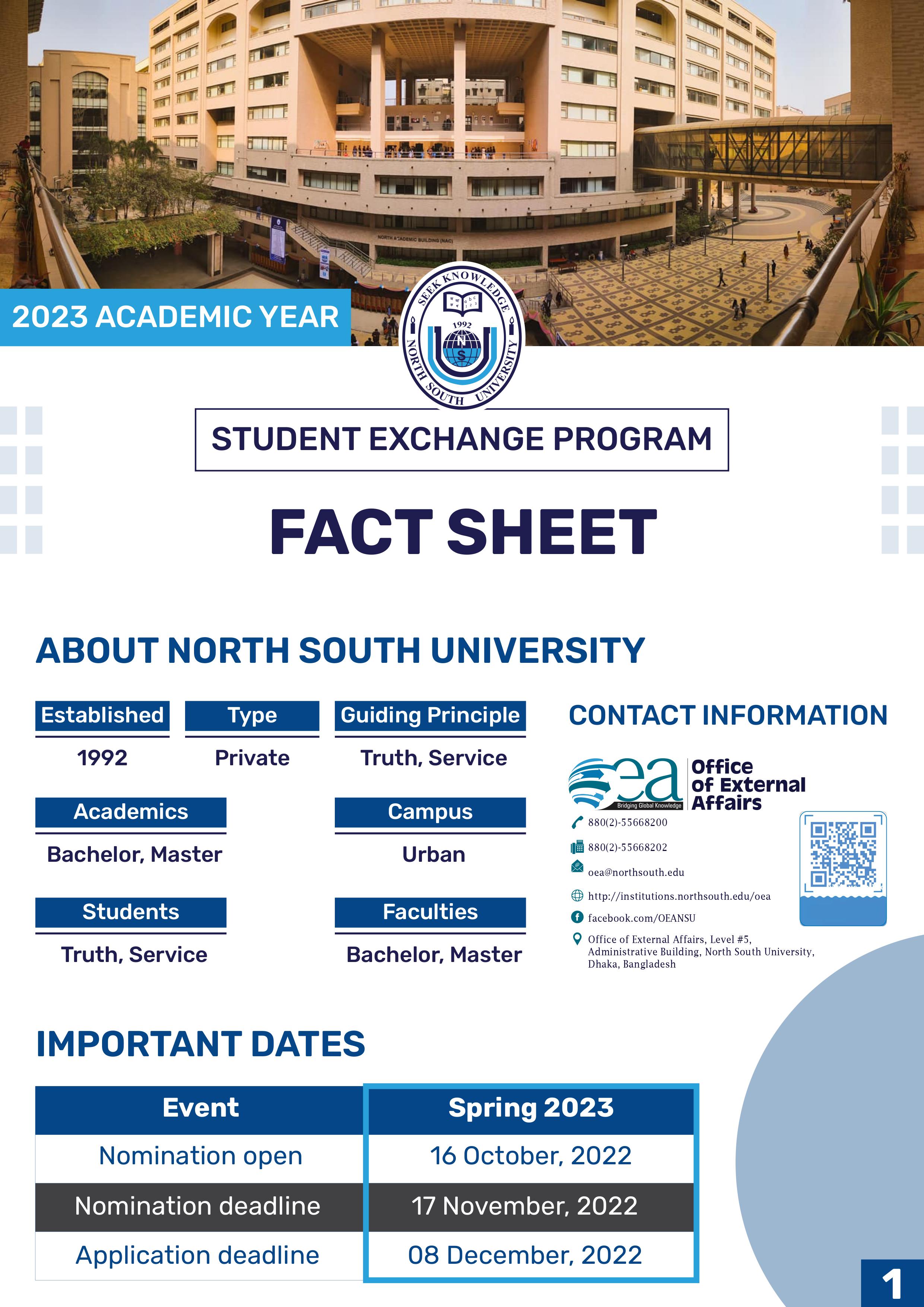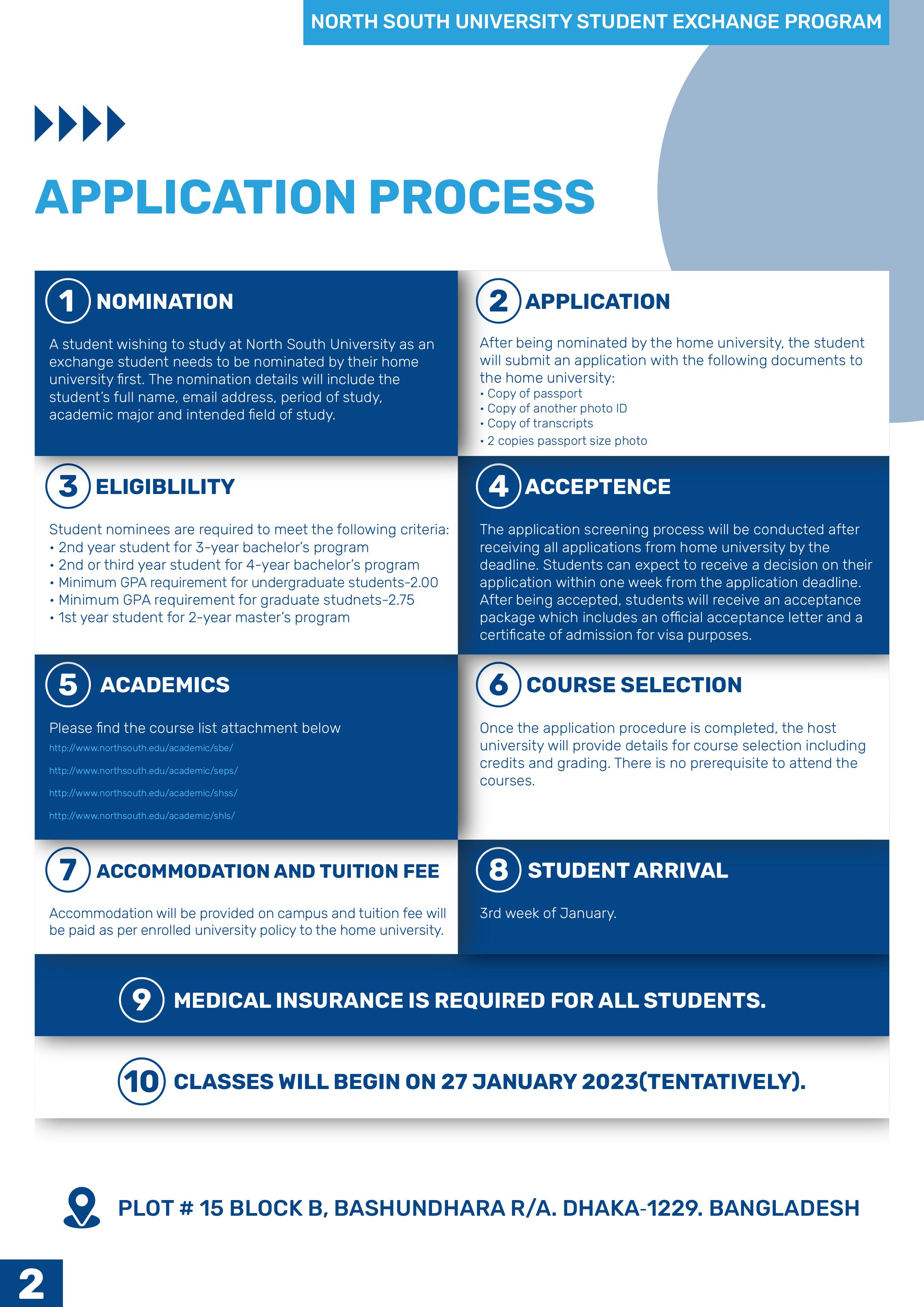 ---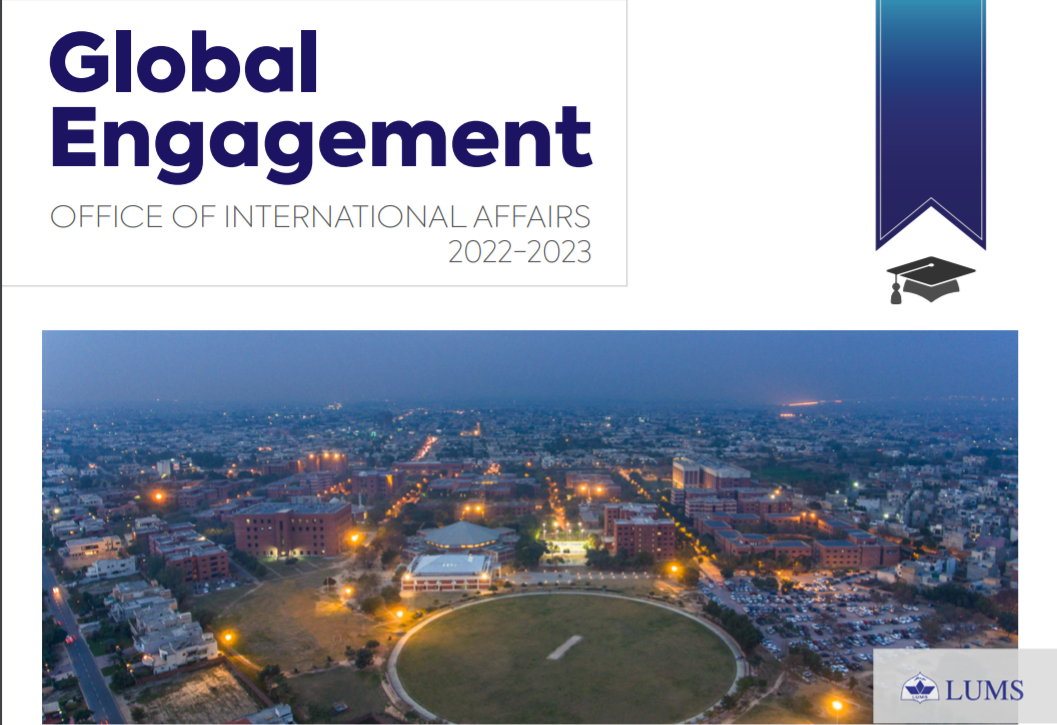 Factsheet 2022/2023 & Nomination Deadlines - Lahore University of Management Sciences (LUMS), Pakistan
Our nomination cycle for the Fall 2022 semester has commenced. We are attaching our latest factsheet with this email along with its link. It has information regarding our university, the city in which we are located, the programs we offer, our university life etc.
Factsheet link: click here
Nomination deadline Fall 2022: 14th March 2022
Application deadline Fall 2022: 21st March 2022
Factsheet 2022-2023 pdf: click here
---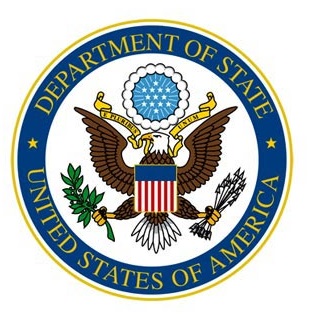 Global Undergraduate Exchange Program
The Global UGRAD student application opens on January 4, 2021. It will close on February 28, 2021 at 12midnight Eastern Time.
The Global Undergraduate Exchange Program (also known as the Global UGRAD Program) provides one semester scholarships to outstanding undergraduate students from around the world for non-degree full-time study combined with community service, professional development, and cultural enrichment.
For more information please refer the following website and applications can be made through the same website before 05 February 2021.
---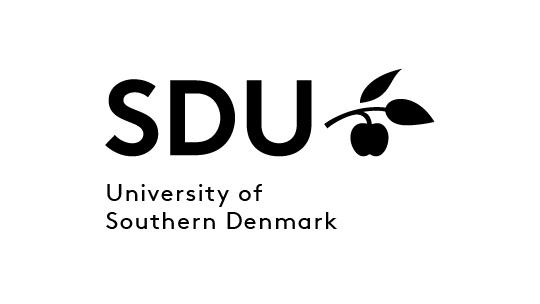 University of Southern Denmark: Applications for SEMESTER EXCHANGES for the academic year 2021/2022.
---