Other Opportunities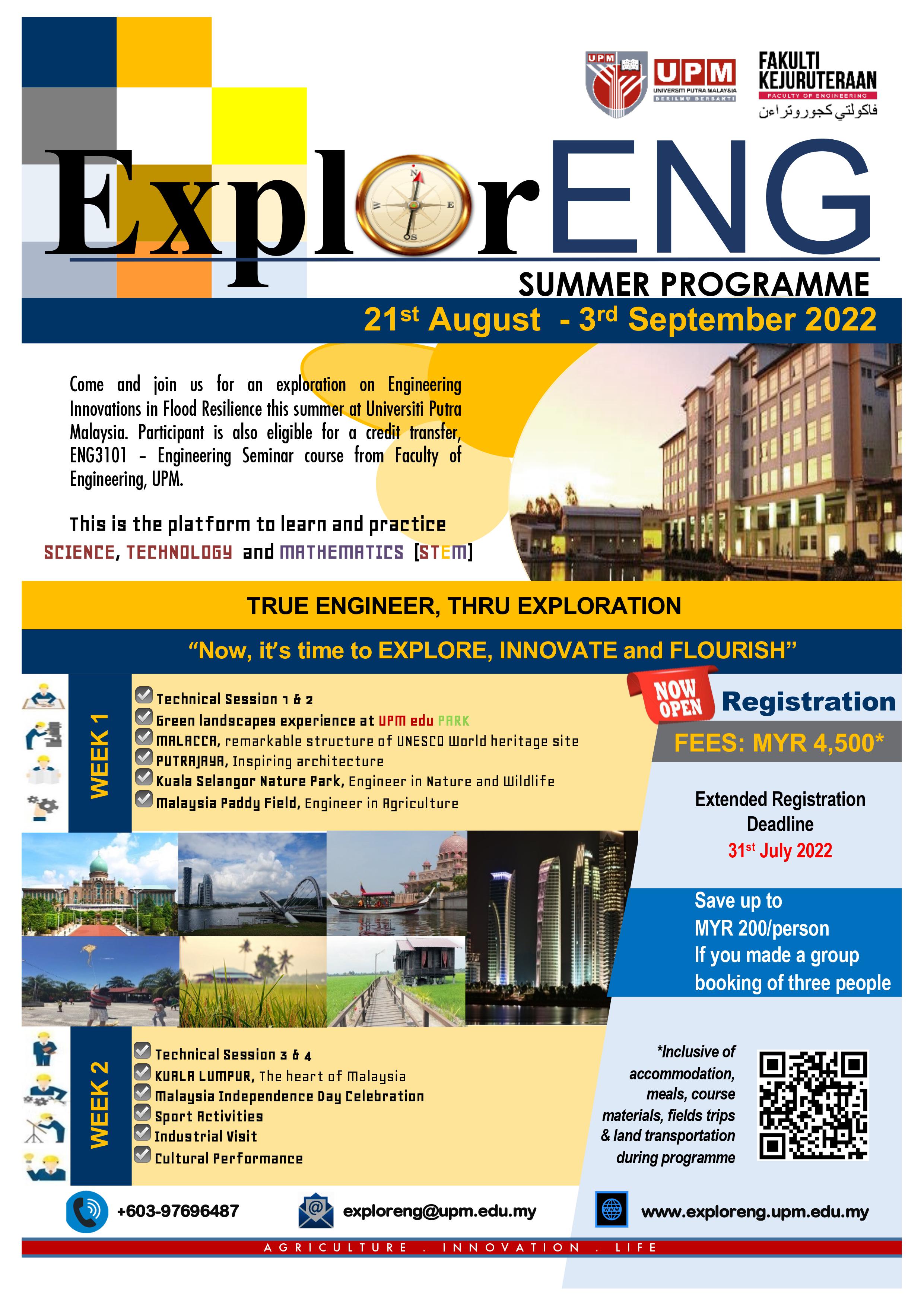 [EXTENDED DEADLINE] Invitation to Participate in ExplorENG Summer Programme 2022
ExplorENG Summer Program, which will be hosted on-site at our faculty from 21st August 2022 - 3rd September 2022.
ExplorENG Summer Programme aims to provide a platform to learn and practice Science, Technology, Engineering, and Mathematics (STEM) and to broaden the truly Asian experience in Malaysia through cultural visits. Diverse activities, such as technical lectures (workshops and hands-on sessions), technical visits, and community participation, will be launched, guiding them to improve their international networking through intercultural exposure. Following this programme, learners are expected to receive academic, cultural, and environmental knowledge, as well as new abilities. Participants may also transfer credit for the ENG3101 - Engineering Seminar course from the Faculty of Engineering UPM. More information about the programme is provided below.
Program Name : ExplorENG Summer Program
Program Duration : 2 Weeks (21st Aug 2022 – 3rd Sept 2022)
Registration Dateline (Extended) : 31st July 2022 (Sunday)
Program Fee : *MYR 4,500 per person
Course Information : www.exploreng.upm.edu.my
Should you require any further information, please do not hesitate to contact us at
exploreng@upm.edu.my
We look forward to your application.
To enlarge the poster: Click here
---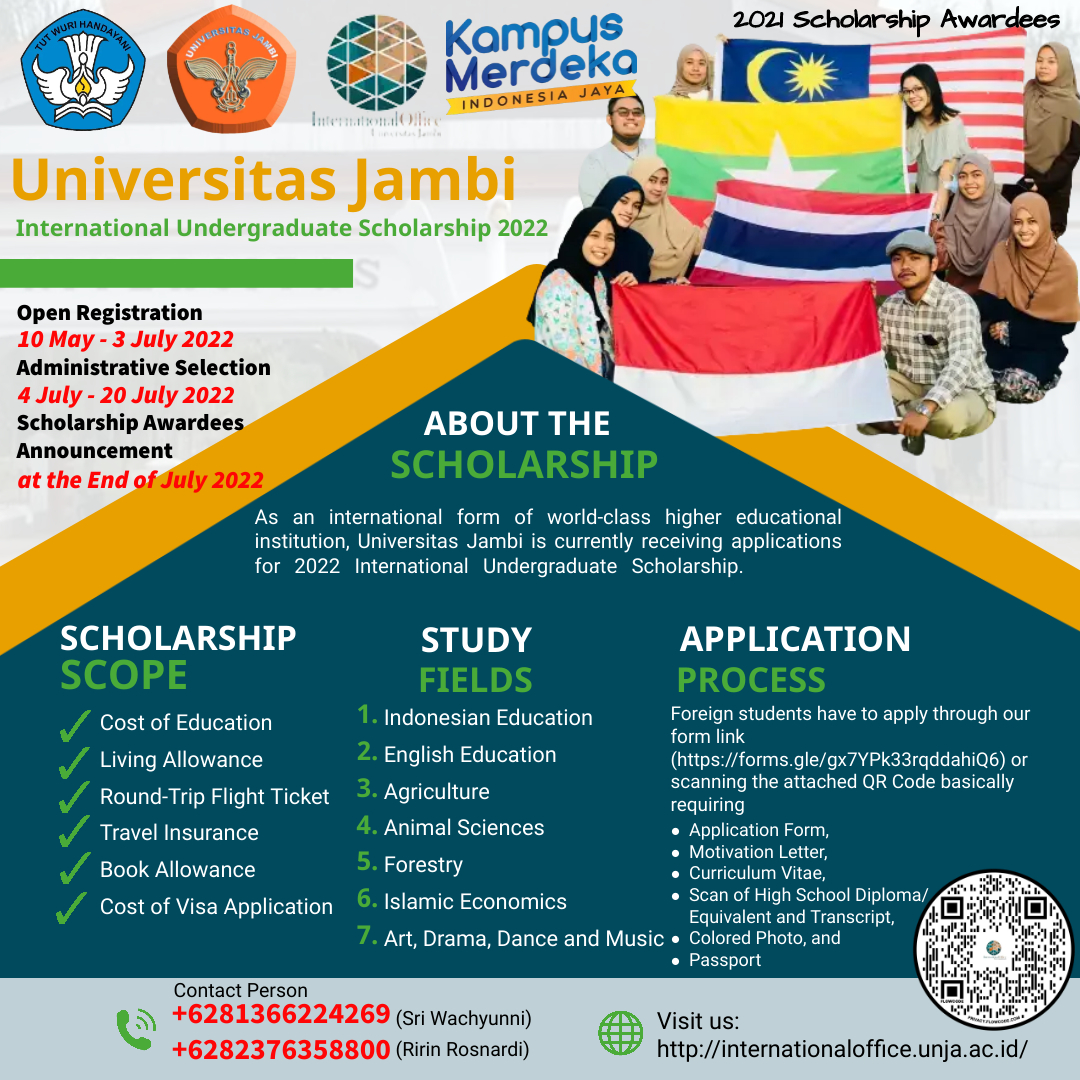 𝐈𝐧𝐭𝐞𝐫𝐧𝐚𝐭𝐢𝐨𝐧𝐚𝐥 𝐔𝐧𝐝𝐞𝐫𝐠𝐫𝐚𝐝𝐮𝐚𝐭𝐞 𝐒𝐜𝐡𝐨𝐥𝐚𝐫𝐬𝐡𝐢𝐩
Universitas Jambi has a well-organized scholarship program which provides outstanding international students with an opportunity to take a bachelor's degree in specific study fields.
Name: 𝐔𝐧𝐢𝐯𝐞𝐫𝐬𝐢𝐭𝐚𝐬 𝐉𝐚𝐦𝐛𝐢 𝐈𝐧𝐭𝐞𝐫𝐧𝐚𝐭𝐢𝐨𝐧𝐚𝐥 𝐔𝐧𝐝𝐞𝐫𝐠𝐫𝐚𝐝𝐮𝐚𝐭𝐞 𝐒𝐜𝐡𝐨𝐥𝐚𝐫𝐬𝐡𝐢𝐩
𝐄𝐥𝐢𝐠𝐢𝐛𝐢𝐥𝐢𝐭𝐲 :
Non-Indonesian students applying for Bachelor's Degree
High school graduate or equivalent no longer than 3 years
High school should be registered at and accredited by the Ministry of Education of the student's home country
Meets the relevant application and language requirements of UNJA for international students
𝐒𝐮𝐛𝐬𝐢𝐝𝐢𝐞𝐬 :
Tuition Fees Waiver
Monthly Living Allowance
Visa and Stay Permit Allowance
Accommodation in International Students' Residence
Book Allowance
Travel Insurance
Airfare for one economy round trip
Quarantine Fees
Scholarship Duration: 4 Years (8 Semesters)
𝐀𝐩𝐩𝐥𝐢𝐜𝐚𝐭𝐢𝐨𝐧 𝐏𝐞𝐫𝐢𝐨𝐝 :
Registration Opens from 10th May to 3rd July of 2022.
The Administration Board will screen the application forms from 4th July to 9th July of 2022.
Successful applicants for documentation process will be notified on or around 13th July of 2022.
Final Online Interview will be conducted between 18th and 20th July of 2022.
Scholarship Awardees will be announced at the end of July of 2022.
𝐀𝐝𝐦𝐢𝐬𝐬𝐢𝐨𝐧 𝐠𝐮𝐢𝐝𝐞𝐥𝐢𝐧𝐞𝐬 :
Scholarship applicants do not need to pay for admission registration fees. Students who wish to apply for scholarship have to apply through the following links, basically requiring,
Application Form (International Student Application Form UNJA)
Motivation Letter
Curriculum Vitae
Scan of High School Diploma/ Equivalent and Transcript
Colored Photo
Passport
Note: Applicants must ensure that the submitted application materials are authentic and valid. UNJA IO reserves the right to require applicants to submit additional supplementary materials.
Apply here: Click here!
More info: Click here!
𝐂𝐨𝐧𝐭𝐚𝐜𝐭 :
International Office
Email:
io@unja.ac.id
Website: https://internationaloffice.unja.ac.id
---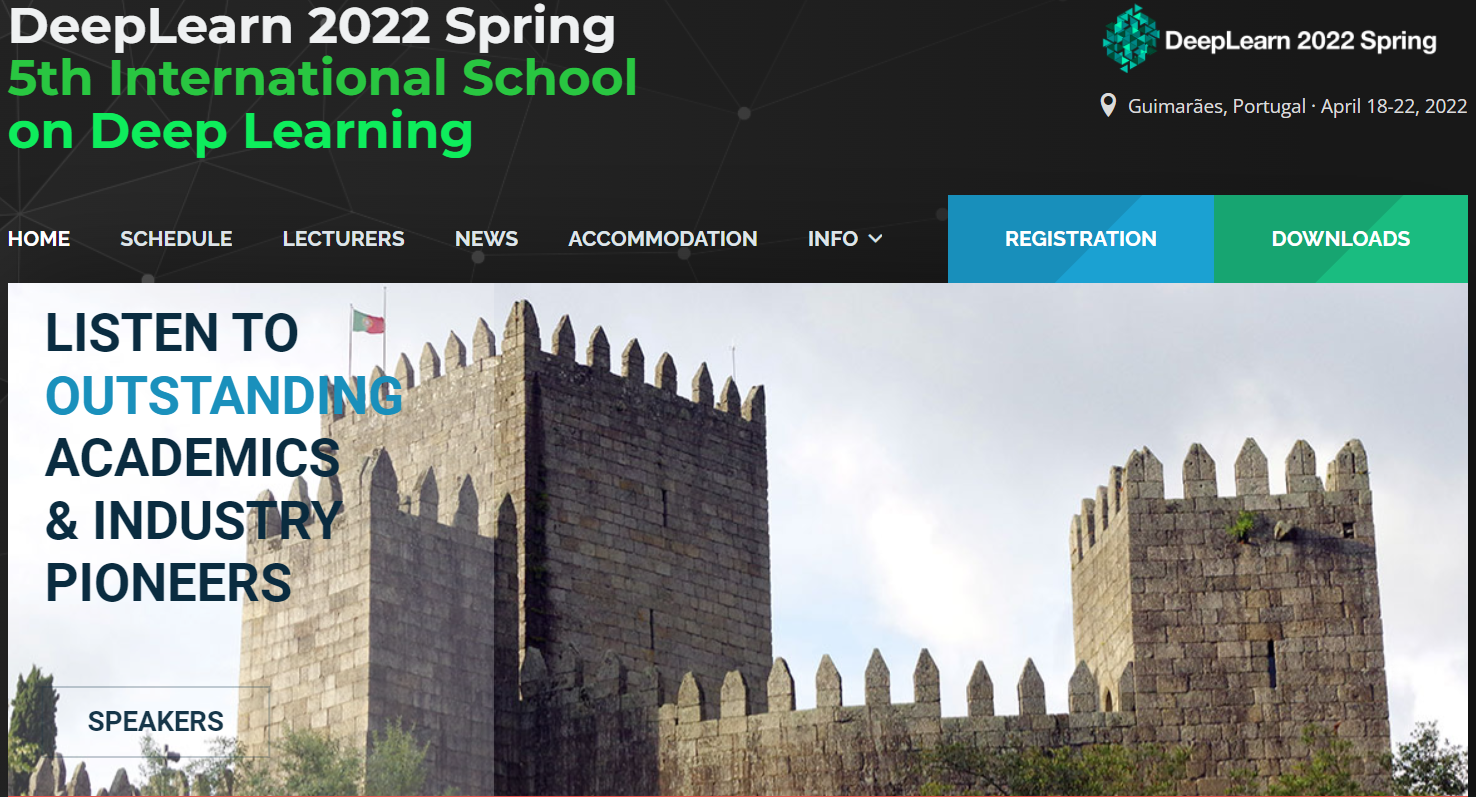 DeepLearn 2022 Spring / Summer / Autumn
Please see below the links to the posters announcing the following research training events we are organizing:
5th International School on Deep Learning (DeepLearn 2022 Spring), Guimaraes, Portugal, April 18-22, 2022: Click here
6th International Gran Canaria School on Deep Learning (DeepLearn 2022 Summer), Las Palmas de Gran Canaria, Spain, July 25-29, 2022: Click here
7th International School on Deep Learning (DeepLearn 2022 Autumn), Lulea, Sweden, October 17-21, 2022: Click here
---

2022 FISU University World Cup Combat Sports
We are pleased to invite the universities of your country to the 2022 FISU University World Cup Combat Sports to be held in Ekaterinburg (Russia) from 29 September to 8 October 2022.
The registration deadlines are as follows:
General Entry (G-Contact + G-Sport): 29 March 2022
Quantitative Entry: 29 May 2022
Individual Entry: 29 August 2022
Please, pay attention that G-contact and G-sport forms are filled in by NUSF (one per country) and are the confirmation of intention to participate. Q-form and I-form are filled in by Universities.
In case of any questions, please do not hesitate to contact us by email: combatdelegations@ekat2023.com
Please, also see our website: https://ekat2022.fisucombatsports.com/en
Official invitation for your National University Sports Federation: Click here
2022 FISU University World Cup Combat Sports Technical Regulations: click here
Preliminary competition schedule: Click here
---
Deadline Extension - Call for nominations for the 2021-2022 edition of the UNESCO-Hamdan Prize for Teacher Development
UNESCO informs the Governments of all Member States that the deadline to submit nominations for the 2021-2022 edition of the UNESCO-Hamdan Prize for Teacher Development has been extended to 15 February 2022 at midnight (Paris time, UTC+1).
UNESCO invites the Governments of all Member States to submit nominations for the 2021-2022 edition of the UNESCO-Hamdan Prize for Teacher Development. You will find attached the Circular Letter CL/4348 sent to all Ministers responsible for relations with UNESCO, with copies to Permanent Delegations and National Commissions.
Funded by the Hamdan Bin Rashid Al Maktoum Foundation for Distinguished Academic Performance of the United Arab Emirates, the Prize was created in 2008 to promote and recognize pedagogical innovations that enhance the performance and effectiveness of teachers for quality education for all. It will be awarded for the seventh time next year. The three laureates of the 2021-2022 edition will receive an award of US $100,000 each to further develop and disseminate their outstanding practices related to teacher development.
UNESCO recommends that this call for nominations be made widely known in your country, among relevant stakeholders, and encourages Member States both to set up a national selection process and to announce the selected nominees. Please note that the application process has moved to an online platform, with applications submitted directly by candidates. Carefully read the guides providing detailed information on the nomination and application procedure.
Online application platform guide
The nominations should be submitted in English or French at the very latest by 15 February 2022 at midnight (Paris time, UTC+1)
Further information on the Prize is available on the website
---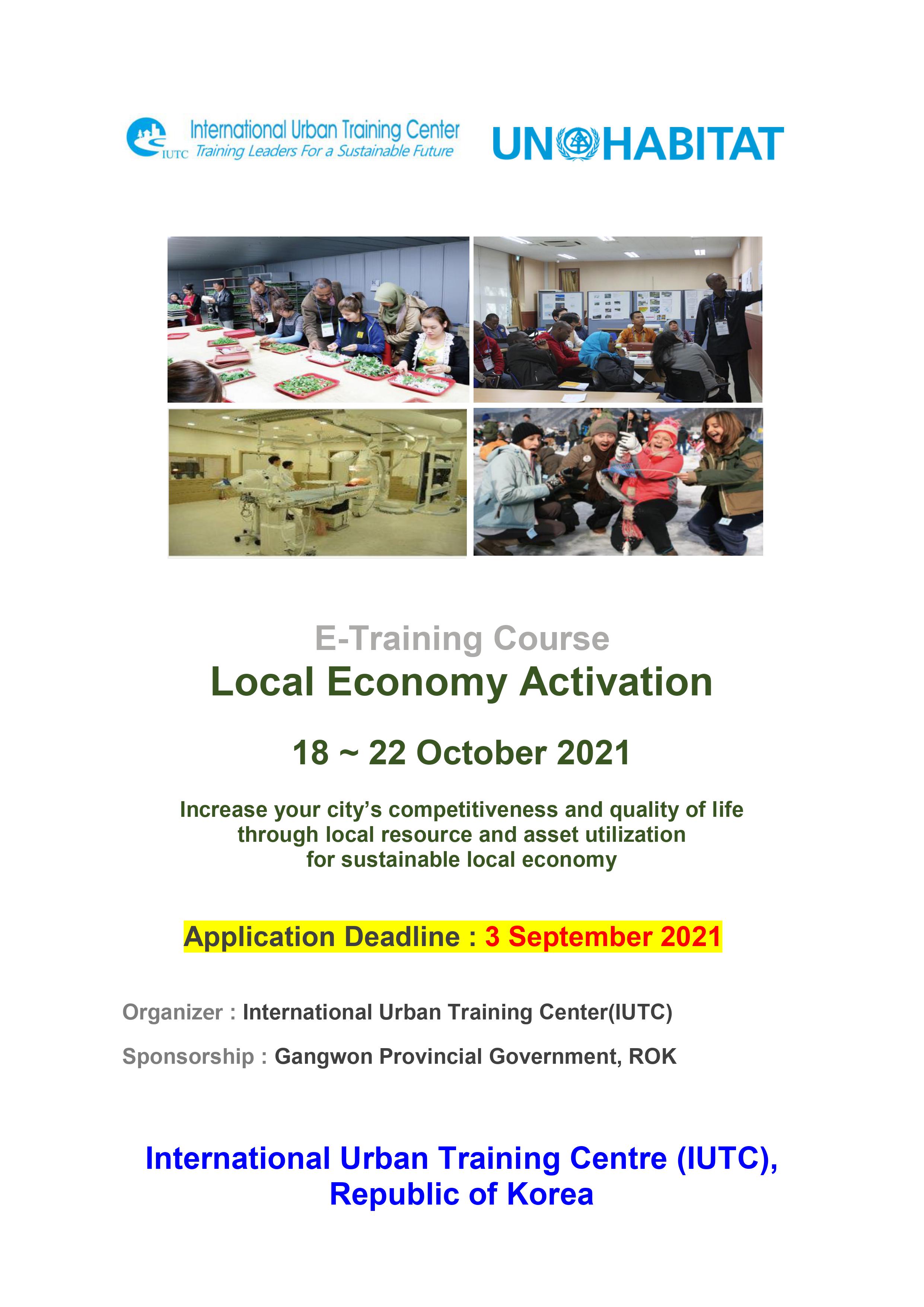 Call for IUTC Online Training Application : - Local Economy Activation 2021
International Urban Training Center(IUTC), as a world class capacity building institute, shares a great deal of valuable knowledge, technology, and experience on urbanization, environment, and sustainable local development policies of Gangwon province, the republic of Korea and global trends in the world.
Please find the the IUTC online training course brochure on "Local Economy Activation(LEA) 2021, including Application Form, Personal Information excel sheet and Agreeement on Personal Information Utilization as well.
Also, please be noted that this year training will be held online due to ongoing COVID-19 Pandemic and its mutant viruses.
Based on your participation in the thematic training online, we would like to assist you building up your practical implementation capacity on sustainable local activation in the city or local governmental level.
If you are interested in the LEA training program, please don't forget to send your application documents by the deadline September 3, 2021.
Training Period: 18—22 October 2021
Application deadline: 3 September 2021
Local_Economy_Activation_Brochure_2021
Agreeement_on_Personal_Information_Utilization
Applicant_(Personal_Information_format)
more information(IUTC website): http://iutc.gwd.go.kr
---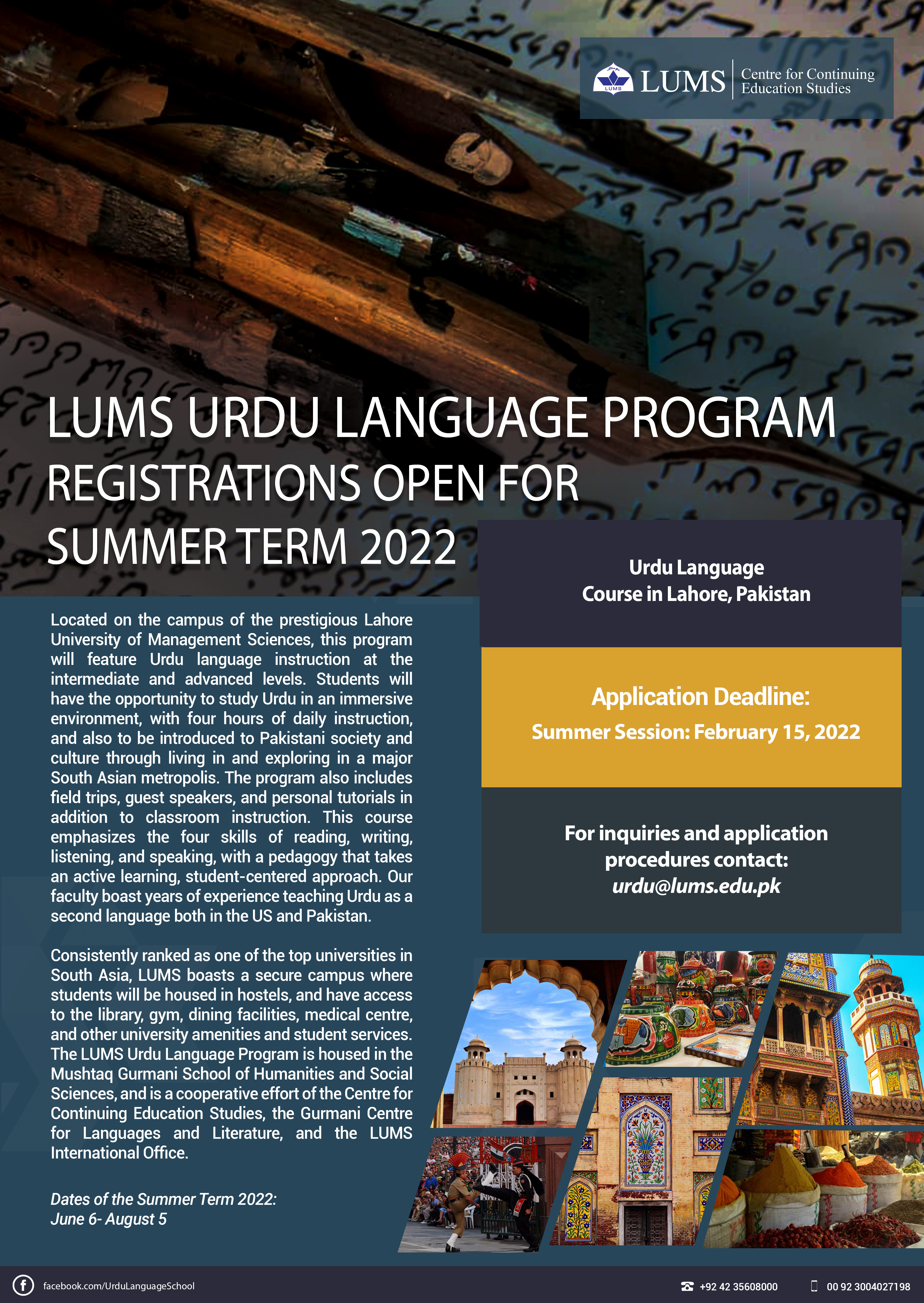 Urdu Language Program - Registrations Open for Summer Term 2022
This 8-week program provides an opportunity for students from around the world to study Urdu language and literature and learn about Pakistani society and culture first-hand at LUMS, the leading university in Pakistan's cultural capital, Lahore.
Urdu is a key research language for students of South Asian history, geography, politics, art history, literature, cinema, religion, and other fields; we aim to provide an immersive program in Pakistan for students of Urdu as a second language that also will facilitate their other scholarly work in the region.
For more information about the program please see the attached or you may also visit our website: https://ces.lums.edu.pk/urdu-language-program.php
We aim to provide students with the opportunity to be immersed in a world of Urdu, both inside and outside of the classroom, using a student-centered curriculum that has been developed by a team of specialized instructors with extensive pedagogical training and experience in the United States. The deadline to apply to this program is February 15th, 2022 Any further inquiries can be directed to: urdu@lums.edu.pk urdu@lums.edu.pk or by replying to this email. Please don't hesitate to let us know if you have any questions regarding the program!
Facebook: UrduLanguageSchool
Twitter: lumsurduprogram
Instagram: lumsurduprogram
Facebook: OIALums
Twitter: OIA_Lums
Instagram: internationalofficelums
Please click the link for more info: ULP Infosheet
---